Phil B - Mashups & Mixes
Phil B Mashups Radio Show on Dance FM - 1st April 2021
An hour of big new mashups in the mix, including some superb versions of Oasis Wonderwall, Michael Jackson Beat It and even the music from a classic Guinness ad!
Full tracklistings and more information
---
Here is the super-catchy Nathan Evans Wellerman sea shanty remix mashed-up with Donald Where's Your Troosers. Warning - this may get stuck in your head!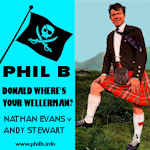 Donald Where's Your Wellerman?

This Wellerman mashup plus Deeper Mashup & Turbo Suitcase released in late 2020 after my long break from the scene have each received amazing feedback and some great radio airplay. 😊Thank you so much everyone!
Read more in the Latest Updates section.

All three of my recent mashups now also include DJ-friendly Extended Club Mixes, as well as the shorter Radio Edit versions.

---

















All my mashups and mixes are available to download as MP3s including the extended versions (higher bitrate versions are available on request for club use or radio airplay). Please click on the links on the left or the thumbnails above.
Thank you for visiting www.philb.info
---